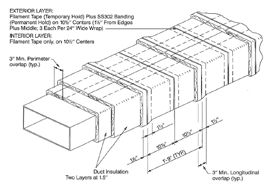 Flameshield VAD meets the international standard for ventilation air duct fire protection (ISO 6944). It is available as a 1-hour or a 2-hour system. The blankets are available unfaced, faced one-side with a scrim-reinforced aluminum foil, or encapsulated. Both the refractory ceramic fiber (RCF) and the body-soluble fiber (CMS) blankets have been successfully fire tested.

Flameshield VAD is used to fire protect HVAC ducts, return air ducts, smoke purge ducts, and similar general purpose ducting.

Flameshield VAD is classified by Underwriters Laboratories and Omega Point Laboratories.