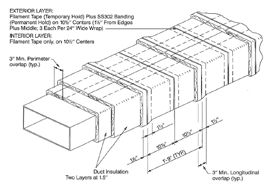 Flameshield Blanket (FSB) is designed to be applied directly to grease ducts and hoods, and to permit zero clearance to adjacent combustible materials. The blanket content may be either refractory ceramic fibers (RCF) or body soluble insulation fibers (CMS). Flameshield systems have been fire-tested using both fiber contents and this selection is normally left to the customer. Both blanket types are very flexible and possess high tensile strength for ease of handling.

Flameshield Blanket systems are normally a two-layer installation. FSB is available unfaced, faced one side with scrim-reinforced aluminum foil, or encapsulated. Unlike competitive systems, the Flameshield facings are glued to the blanket core with high temperature adhesive applied at the time of product fabrication in our plant.

Flameshield Blanket does not degrade over time from normal use. The blanket's properties are unaffected by casual water, once the product has been dried in place. The facing adhesive, once dry after initial manufacture, is not soluble in water.

Flameshield Blanket meets NFPA Standard 96; is classified by Underwriters Laboratories and Omega Point Laboratories; and has been evaluated by SBCCI, BOCA and ICBO Model Codes.